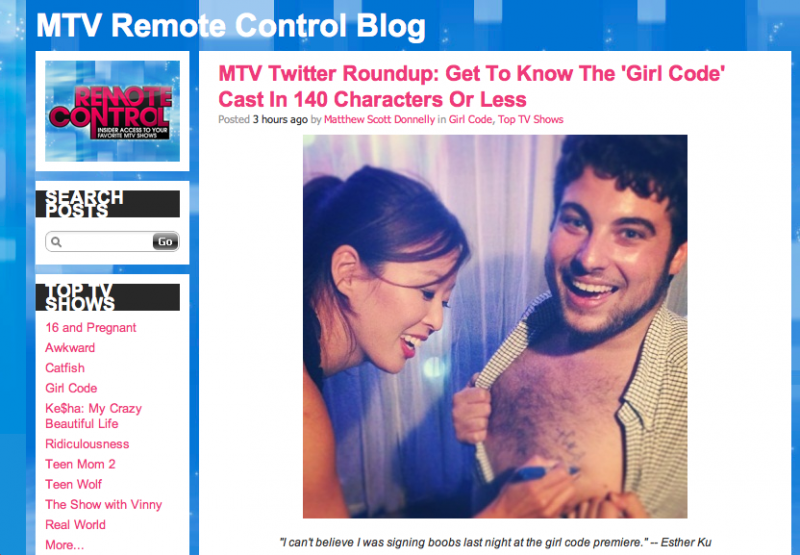 ESTHER KU THINKS MARIJUANA SHOULD BE LEGAL… DO YOU?

Our cover girl this week is comedienne Esther Ku. Esther is hysterical and should be way more popular. For more on Esther visit www.funnyku.com.

- Dan Lorenzo, Steppin' Out Magazine, October 17, 2012
ESTHER KU ON THE PLAYBOY RADIO MORNING SHOW

We kicked off our Halloween Power Hour by welcoming comedian and musician Esther Ku into the Mini Mansion for her first in-studio appearance. To celebrate, she dressed as the classic cartoon character Jem! "Ku," as her friends call her, compared family backgrounds with guest host Jo Koy, which led to an Asian vs. Asian battle of the wits! We also found out that Ku is obsessed with her clit, so she decided to break out her ukulele and serenade us with her song, "Come, Come, Come," which celebrates her vibrator.

- http://pbmorningshow.wordpress.com

LOU DIBELLA ROAST FRIARS CLUB

This being the Friars Club, comedy was on the menu, and a roster of talented quipsters took the stage, rapid fire, and gave DiBella the business. Three quarters of the material cannot be repeated here, but to give you an idea of the tone, find some video of Esther Ku, the first comic to the stage, and you'll get a sense. She works in the vein of Sarah Silverman…DiBella never flinched, and his mom Anna showed boundless good humor…

- Michael Woods, ESPN.com, January 24, 2012
---

MEN IN MENSTRUATION REVIEW

What I do have to say is that seeing a North American Asian female doing such work really deserves merit on its own. In particular, some of the topics she uses in her videos, like masturbation, hardcore sex (such as fisting), and of course the most used jokes about Asian male penis size are definitely topics that are rarely touched upon by Asian females due to the usually, traditional and "well-behaved" upbringing. Suffice to say, not all Asians are brought up like that, however, it's very surprizing to me to see an Asian female break so many of these "good-girl" barriers.

- Prexus Swyftwynd, Men in Menstruation Blog, October 13, 2011
---
VIRAL OUTBREAK: ESTHER KU'S BLOODY HILARIOUS CREEDENCE CLEARWATER REVIVAL PARODY

If you've seen Esther Ku on The Smoking Jacket before, then you already have a vague idea of how this is going to work. A classic song, Creedence Clearwater Revival's "Have You Ever Seen the Rain" this time, is going to get transformed into something mildly terrifying and completely hilarious.

Is a song like that even capable of being turned into something terrifying? If you doubt that it is, have a look at what happened when she tackled "Twisting the Night Away" and "Surfin' USA" to be convinced otherwise. And then, check out her take on CCR below…

- Adam Brown, thesmokingjacket.com October 10, 2011
---

MAIDEN JAPAN-GILBERT GODFRIED

Last night I was lucky enough to get to see Gilbert Godfried at Catch A Rising Star which was at Michael Anthony's in Jersey City NJ. Before the show I saw Dan The Song Parody Man who was with an Asian girl named Ku. Dan told me Ku was going to do a short set as "Gilbert's Japanese Girlfriend." As I'm sure you know-Gilbert was recently dismissed as the voice of the Aflac duck because of his "insensitive" tweets following the recent earthquake in Japan.

A few minutes later-Dan The Song Parody man was off doing business and Ku asked if she could sit with me and my buddy Bill. In perfect English, Ku told us she was from Chicago and that she was starving. Ku asked if she could have some of our food when it came-I told her that unfortunately we had not ordered any fried rice and my buddy Bill told Ku we had not ordered any sushi. Stereotypical? Yes!

But not nearly as stereotypical as when Ku took the stage 20 minutes later. Ku went into character as a girl from Tokyo and absolutely floored the crowd with her Japanese accent and material. The girl is a riot and her act was even more effective with what has recently happened to Gilbert.


- Dan Lorenzo, Steppin' Out Blog, April 15th, 2011
---
VIRAL OUTBREAK: ESTHER KU MASTURBATIN' EVERYDAY

The last time we featured the foul mouthed comedy stylings of Esther Ku, she was doing unspeakable things to Sam Cooke's timeless classic "Twisting the Night Away." Her version was called "Fisting the Night Away" and, appropriately enough, we posted it the day after Thanksgiving.

This time around, she's turned the Beach Boys "Surfin' USA" into an ode to self pleasure. If you ask us, it's a change for the better. We're in the Midwest, what the hell do we care about surfing, you know?

- Adam Brown, thesmokingjacket.com March 15, 2011
---
ESTHER KU FISTING THE NIGHT AWAY

We were first introduced to the lovely and talented Esther Ku when she was a finalist on NBC's Last Comic Standing a few years ago, and we've been fans ever since. So we were more than a little excited when the above video showed up on her Facebook page yesterday.

In this hilarious parody, Sam Cooke's timeless classic "Twisting the Night Away" gets a makeover that the soul music legend probably never (but totally should have) seen coming. We don't want to spoil the surprise by getting into specifics, but the revamped lyrics deal with a sex act that rhymes with "listing," if you know what we mean (we mean fisting). Needless to say, it's pretty funny stuff.

Check out the profane ukulele stylings of Esther Ku in the hilarious "Fistin' the Night Away" video above, and then head to her website, FunnyKu.com, to find more info about one the funniest up-and-coming comics in the game.


- Adam Brown, thesmokingjacket.com November 26, 2010
---
ESTHER KU MOUTH LIKE A SAILOR

I just ran into Esther Ku at a tiny show in Mountain View, CA a few nights ago. She's apparently from New York and was in the finals of Last Comic Standing a couple seasons ago. So you may know who she is.

I didn't, but was excited when she pulled out her ukulele for a song. From what I can see, she mixes original stuff with parody, and straight stand-up too. The song I saw her do was a parody of Sam Cooke's "Twistin' the Night Away". Credit for at least picking a song that's less obvious. I'm not a big fan of parody, but this one was pretty funny.

She has a video for an original song called "Some People" that I enjoyed a lot more. It's an ode to gluttony and overabundance basically, but has some nice surprises in it. Like a lot of musical comics she relies on sex jokes in her songs. And she's got the "cute so she can get away with saying naughty things" idea going for her. And I certainly use enough sex jokes, so this pot won't call the kettle dirty.

Anyway, check out the video below and drop by Esther's site to see more and find out where you can catch her live.

- Phil Johnson, manicmelodies.com November 4, 2010
---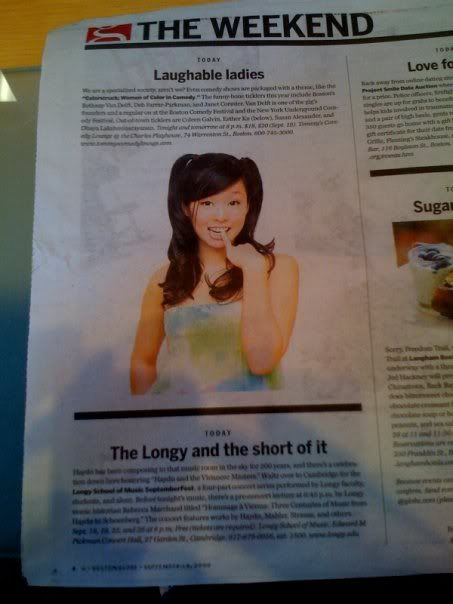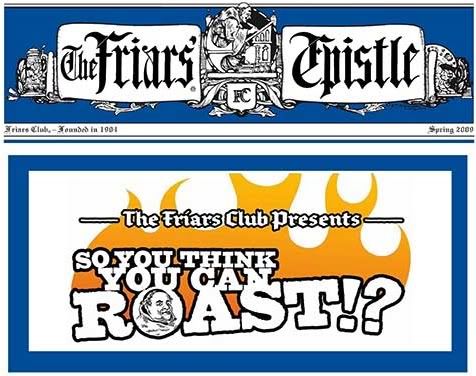 The Korea Daily, New York City, May 16, 2009
---
SAUCY ESTHER KU DISHES ON SEX AND THE BEACH BOYS

Esther Ku went from being fired from a job for laughing excessively to a career in which she makes people laugh. The Korean humorist was let go by Sharpie after being deemed a bit too carefree during meetings…. But Ku still laughs a lot. She believes the reason she was kicked off of "Last Comic Standing Season 6″ was because of her constant laugh. The saucy Ku, who will perform tomorrow night at Catch a Rising Star in Princeton, has been entertaining ever since she was a tyke…. Ku has gone from prim and proper performer to salacious stand-up. "I talk about my sex life onstage," Ku said. "I love to go up there and talk frankly about sex. Men talk about sex and bash women. But women aren't supposed to talk about sex. We're supposed to be ladylike. It's a ridiculous double standard. I'm trying to bring equality to my shows."
- Ed Condran, mycentraljersey.com, January 31, 2009
---
ESTHER KU IS HOT, FUNNY


Howard welcomed Esther Ku, the first contestant in the Hottest/Funniest Chick contest, and asked her about growing up in a conservative household. Esther told the crew her missionary parents would only allow their children to watch "The Ten Commandments" and "The Sound of Music" and now consider her a hell-bound sinner. Howard wondered if Esther's fellow comedians hit on her much, but she said she just ignores them - preferring masturbation instead. Esther then did a minute of her stand-up routine and kept the crew laughing the entire time.
- Howardstern.com's review of THE KILLER COMBO: HOT AND FUNNY December 9, 2008
---
The Korea Daily News September 12, 2008
---
Boston Herald August 4, 2008
---
"Of the others moving on, Louis Ramey, Esther Ku and Phil Palisoul stood out as confident, well-schooled stand-ups."
- Robert Canning, IGN.com's review of Last Comic Standing "Episode 601″ May 23, 2008
---
We start in New York City. Fearne and Bill stand outside Gotham Comedy Club where a line of hopefuls stretches around the block. Inside, Richard Belzer and Steve Shirripa judge the contests. Super-cute 24-year-old Esther Ku also shines. Her delivery is described as "conversational and funny" by Belzer. Esther Ku impresses the audience and the judges.
- Nick Chor, IMDB.com's Synopsis for "Last Comic Standing" Episode #6.1 2008
---
Boston Comedy FestivalWho Got Robbed: Esther Ku

Ku works this wacky Asian Stoner Valley Girl routine that is wildly vulgar and so funny that you might start crying in the middle of her routine. She was also one of the few comedians who had the audience laughing–and not in that polite way–as soon as she stepped on the stage. The line, "These balls are huge, and oh-so-furry!" rattled on in our heads after the show. When she didn't make it, many audience members were visibly surprised.
- Caroline Roberts, Bostonist.com's review of the Boston Comedy Festival October 8, 2007
---
Cover of Sidekick section of The Boston Globe October 8, 2007
---
Boston Globe March 20, 2006 Front page of Living Arts section
---
Korean newspaper New York City 2007
---
Boston Globe October 14, 2007
---